Enter The Haunted Mansion From Marvel
Sep 09, 2016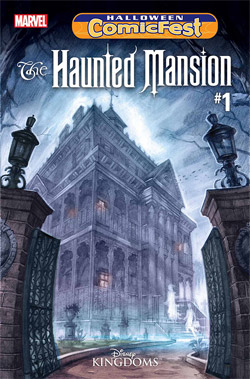 Welcome, foolish mortals, to the Haunted Mansion! It seems that no one lives in the elegant mansion on the hill...but then where's that creepy organ music coming from? We try to get answers from Marvel Editor Mark Basso about The Haunted Mansion #1 which you can get for FREE at your local comic shop on October 29th!
---
Halloween ComicFest: How much of an influence did previous The Haunted Mansion stories have on the creation of the new series?
Mark Basso: Our goal with this series was to go back to the original attraction and grow something new from those seeds. The Haunted Mansion -- and all Disney Parks attractions, really—are built as little worlds unto themselves, and story is a big consideration in their development alongside the mechanical function. The Imagineers behind them are passionate about creating a fully realized backstory for each attraction, so it's not just a ride, but a manifestation of that story. When we start one of these Disney Kingdoms comics, the editors and Imagineers go back to this original source material with the creative team, unearthing concepts, environmental details, and sometimes even characters that we can expand on and fully dramatize in comic book form.

Halloween ComicFest: Are you a fan of the original attraction? What parts of the ride made it into the story?
Mark Basso: I am! That was one of my favorite spots at Walt Disney World when I visited when I was younger, and I still have the foam rock my parents bought me from the souvenir shop! Had a lot of laughs scaring people by hurling what looked to be a 30 pound stone at people. And Joshua Williamson, the writer, is a HUGE Haunted Mansion fan, having visited the attraction many, many times and came in with a deep knowledge of the attraction and its history. So yeah, we had personal connections to the story and I think it shows in the final product. Josh sketched together a "map" of the mansion so we could all get a sense of where everything was in relation to everything else so we could follow as we went through the story. I don't want to give any of the story away, but a great deal of the Mansion's features made it into the comic—from the stretching portraits to the graveyard!

Halloween ComicFest: Who are the main characters of The Haunted Mansion #1?
Mark Basso: Haunted Mansion follows Danny Crowe, a teenager who is kind of an outsider. Through a series of events he makes it into the Haunted Mansion, and from there we meet a lot of familiar ghouls like the Bride, the Hitchhiking Ghosts, and more!

Halloween ComicFest: How is this take on The Haunted Mansion different from others?
Mark Basso: This one keeps the Haunted Mansion true to what as Parks fans would expect, and situates it almost like a character front and center to the story. And the way Jorge Coelho renders it, and Jean-Francois Beaulieu colors it, it really captures the essence of how it appears in the parks in all its creepy yet intriguing glory!

Halloween ComicFest: What are some of your favorite Disney comics?

Mark Basso: This one. Figment, Figment 2, Big Thunder Mountain Railroad…all of the Disney Kingdoms books have been amazing to work on and more fun to read!
Halloween ComicFest: What are some of your favorite Halloween movies or monsters?

Mark Basso: Friday the 13th, Halloween, and Nightmare on Elm Street are always what I think of when it comes to frightening Halloween-time movies. My favorite monsters would have to be the classic Dracula and Frankenstein, though!

Halloween ComicFest: If fans enjoy The Haunted Mansion #1, what other comics would you recommend?

Mark Basso: The very first Disney Kingdoms comic we produced was Seekers of the Weird, which was based on the never-created Museum of the Weird which Walt Disney and Imagineer Rolly Crump intended as a walk-through companion to the Haunted Mansion attraction, so if spooky adventure is your thing, that's a natural place to go! There are actually a couple of nods to this story in Haunted Mansion for eagle-eyed readers….