Creator Roye Okupe On Blending West African History and Mythology for Malika
Oct 12, 2017
YouNeek Studios has made waves in the comic book industry as publisher Roye Okupe continues to deliver material unlike any other title available. After YouNeek's first Free Comic Book Day title with Malika, the Azzazian Queen returns for Halloween ComicFest. We sat down with Roye to talk about what makes The Dragon Trials special and how he blends West African history and mythology to create a thoroughly enthralling tale.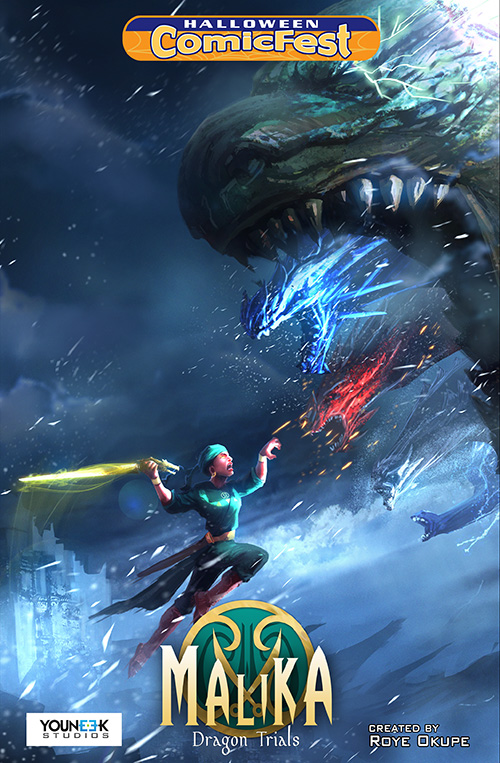 HCF 2017 Malika: The Dragon Trials
JUL170037
YOUNEEK STUDIOS
(W) Roye Okupe
(A) Chima Kalu, Raphael Kazeem, Ayodele Elegbe
After waking up in an alternate dimension, Malika, Queen and military commander of the Azzazian Empire, tries to make sense of her dire predicament. Before she can do so, however, Malika is approached by Oris, an Atalian deity who instructs her that the only way out of her current nightmare is passing what he calls "The Dragon Trials." [ALL AGES]
---
Halloween ComicFest: What kind of mythology and culture does the Azzazian people have? What should readers be familiar with before diving into the HCF issue?
Roye Okupe: As both writer and creator of the Malika series, it has been an extremely exciting and rewarding experience putting out each book in the series. Malika is heavily inspired by West African history and mythology. And being born and raised in Lagos, Nigeria (located in West Africa) makes it extra special for me. What I've tried to do with Malika is surround her fictional kingdom of Azzaz with actual historical events, characters and locations. However, with Dragon Trials, we decided to focus more on mythology. We've reimagined some West African deities as dragons! And I must say it came out amazing!
Where did the inspiration come from for the Dragon Trials?
I love dragons! I've always wanted to do a story about them. I love them so much that the entire YouNeek YouNiverse (which currently features our flagship characters/series: E.X.O., Malika, WindMaker and FireFrost) is built around them. Malika - Dragon Trials explores the roots of where each of the heroes in the universe will eventually get their powers from. Our first Hardcover art book: WindMaker - The History of Atala and our upcoming Malika - Warrior Queen Part Two (which fans should hopefully be able to grab next spring) dive into further details about the events that happen during Dragon Trials.
Why should fans pick your comic first on Halloween ComicFest 2017?
Easy. It's completely different from everything else you'll see on that day. Africa has a wealth of compelling history and mythology that a lot of people don't know about. It's our mission to bring such stories to the mainstream. So if people want to see something completely fresh, exciting and different they should pick up Malika - Dragon Trails. Plus, who doesn't love dragons?
What got you reading comics? What are some series you're reading today?
It's a weird story. I actually got into superheroes via Saturday morning cartoons like X-Men, Batman: The Animated Series, Teenage Mutant Ninja Turtles, Transformers etc. Growing up in Lagos, Nigeria these were more accessible than comics. Though we had stores selling comics, I just wasn't that into them (read a few). It wasn't until I got to the U.S. in 2002 that I started getting more interested in comics. Even still, I was more into the growing popularity of the superhero blockbuster movies at the time. It wasn't until I decided that I wanted to start a company (YouNeek Studios) that produced/published stories based on African Heroes in 2012 that I started reading a lot of comics as research. After that, I fell in love with the medium. As to what I'm currently reading, I really love what's going on in the independent scene. Books like Is'nana The Were-Spider by Gred Anderson-Elysee, The Pack and Yohance by Paul Louise-Julie (Midas Monkee), Salvagers by Bob Salley, Bounce by Chuck Collins, The Catalyst Prime Universe from Lion Forge and much more are great books. I'd suggest looking into a site like theblerdgurl.com or peepgamecomix.com for great indie titles. In terms of stuff from the bigger publishers: Saga from Image and Injustice from DC comics are great titles I;m currently reading.
What spooky, Halloween titles would you recommend to new readers and why?
Is'Nana The Were Spider by Greg Anderson-Elysee is a great horror title!
Why do you think events like Halloween ComicFest are great for the comic book community?
I think events like HCF (and FCBD) are absolutely crucial because it brings in so many new readers. It also gives skeptical fans a chance to try something new for free. For a small studio like us, this is so vital. So many people picked up our FCBD 2017 title Malika - Warrior Queen chapter one and have since then gone on to become fans of the series. Without things like HCF, this would be impossible for us. We're so grateful for the opportunity.
What do you think comic shops bring to the comic book community?
Fellowship. It's a place for people of all shapes, sizes, race and background to come and have a good time and read some great books.
Where do you plan to spend Halloween ComicFest 2017?
My hope is to return to Amazing Spiral Books, Comics & Toys in Baltimore Maryland this year. I was there for FCBD this year signing books and had an amazing (pun intended) time. If you live in the Baltimore area, this is one of the best comic shops you'll ever visit.
---
You can find Malika on Saturday, October 28th on Halloween ComicFest at participating local comic shops. To find a participating shop near you, use the official Halloween ComicFest 2017 Store Locator.