Comics for Young Readers
Feb 16, 2022
Ask any comic book fan and you'll find overwhelmingly most started reading comics at a young age. With the surge in diversity of genres in mainstream comics, there truly is a comic book for everyone, especially young readers.
It's so important to inspire a love of reading in kids, and there are multitudes of studies that show comics help kids learn to read and get them excited about it, too! Building the next generation of comic book fans is something all of us can get behind. Head to your local comic shop to get the best recommendations on kid's titles; however, for now, here's a sampling of all-ages comics out in local comic shops now that are great starting points for getting kids into comics.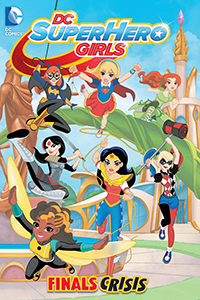 DC SUPER HERO GIRLS TP VOL 01 FINALS CRISIS
APR160322
DC Comics
(W) Shea Fontana
(A/CA) Yancy Labat
Preparing for high school exams is hard enough, but at Super Hero High, even the tests are super-tough! Principal Waller keeps an eagle eye on her students, drilling them in math, science, literature-and other subjects like flying and powers! And no one wants to fail, because Principal Waller hands out detention faster than a speeding bullet.
In the first-ever all ages DC Super Hero Girls original graphic novel, Supergirl, Wonder Woman, Bumblebee, Batgirl, Harley Quinn, Katana, and Poison Ivy are studying hard-well, maybe not Harley Quinn- when they are each abducted by a mysterious villain! Will the students outsmart their captor, save Gotham City, and still pass their finals?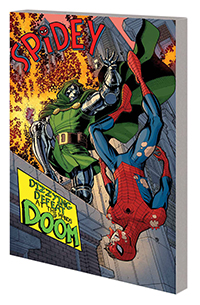 SPIDEY TP VOL 01 FIRST DAY
MAY160932

Marvel Comics
(W) Robbie Thompson
(A) Nick Bradshaw, Andre Araujo
(CA) Nick Bradshaw

Think you know everything about Peter Parker? Think again! Expect action, adventure and hilarity in equal measure as we head back to high school to explore Pete's early days! Modern talent combines with the classic Marvel flavor to present the web-slinger's wonder years in truly amazing, spectacular, sensational style. It's a return to the hassles of overdue homework, not knowing how to talk to girls and a never-ending merry-go-round of madness courtesy of the best rogues' gallery in comics! We're talking Doctor Octopus, Sandman, the Vulture and...Doctor Doom! But could our young hero ever be ready for an arch-nemesis like the Green Goblin? With these and more faces from Peter's past - both familiar and surprising - you'll remember what made Spider-Man the world's greatest hero in the first place!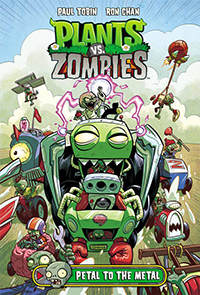 PLANTS VS ZOMBIES PETAL TO THE METAL HC
MAY160046
Dark Horse Comics
(W) Paul Tobin
(A) Ron Chan, Brian Churilla
(CA) Ron Chan
Sun-powered, plant-driven speedsters versus imp-powered, zombie-driven hot rods! Let the races begin! Crazy Dave takes on the incredibly tough Don't Blink video game-and he also challenges Dr. Zomboss to a series of races to determine the future of Neighborville! The car-filled competition is underway! Paul Tobin and Ron Chan return to deliver another hilarious zombie battle to your burg!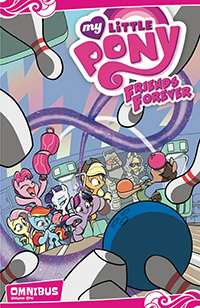 MY LITTLE PONY FRIENDS FOREVER OMNIBUS TP VOL 01
SEP160591

IDW Publishing
(W) Alex De Campi & Various
(A) Carla Speed McNeil & Various
(CA) Jay P. Fosgitt
Friends Forever celebrates the magic of friendship in these stand-alone tales featuring all of your favorite characters. Share adventures with Pinkie Pie and Applejack, Princess Celestia and Spike, Fluttershy and Zecora, Rainbow Dash and Trixie, Twilight Sparkle and Shining Armor, and many more!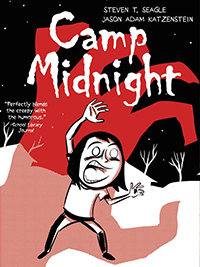 CAMP MIDNIGHT GN
FEB160616

Image Comics
(W) Steven T. Seagle
(A/CA) Jason Adam Katzenstein
Ben 10 and Big Hero 6 creator STEVEN T. SEAGLE returns to comics with New Yorker cartoonist JASON ADAM KATZENSTEIN for a new graphic novel! Reluctant Skye is accidentally sent to the wrong summer camp. Not wanting to please her "step monster," Skye is dead-set on not fitting in. That won't be a problem, as everyone at Camp Midnight-with the exception of fellow camper and fast-friend Mia-is a full-fledged monster! The perfect book for fans of RAINA TELGEMEIER's Smile, but wish it had more bowls of gooey eyeballs.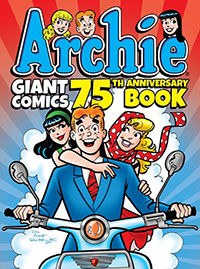 ARCHIE GIANT COMICS 75TH ANNIV TP
AUG161232
Archie Comics
(W/A) Various
Everyone loves Archie Comics, that's why it's been around for 75 years! Now you've got even more to love with this giant paperback comics collection! This fun-packed, laugh-a-minute volume collects 480 pages of the wild humor and teenage tomfoolery that have made Archie comic stories popular for 75 years! You won't want to miss out on this giant anniversary collection!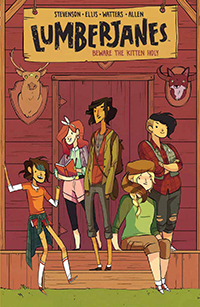 LUMBERJANES TP VOL 01
FEB151172
BOOM! Studios
(W) Noelle Stevenson, Grace Ellis
(A) Brooke A. Allen
(CA) Noelle Stevenson
Lumberjanes is the hit series from the BOOM! Box imprint that features five rad ladies who fight monster baddies with the power of friendship! Written by Noelle Stevenson (Nimona, Adventure Time) and newcomer Grace Ellis, and illustrated by Brooke Allen (A Home for Mr. Easter), this new series has taken comics by storm and has earned rave reviews.
At Miss Qiunzella Thiskwin Penniquiqul Thistle Crumpet's Camp for Hardcore Lady Types, things are not what they seem. Three-eyed foxes. Secret caves. Anagrams! Luckily, Jo, April, Mal, Molly, and Ripley are five rad, butt-kicking best pals determined to have an awesome summer together...and they're not gonna let a magical quest or an array of supernatural critters get in their way! The mystery keeps getting bigger, and it all begins here.