Undead and Loving It! Cool Books and Merchandise Any Zombie Will Love!
Sep 01, 2012
Since the late 19th century, zombies [or, the 'living impaired' as defined by Bart Simpson and certain politically correct circles] have served as fixtures in North American and European folklore and fascinated fear aficionados for centuries. It wasn't until George A. Romero's 1968 contribution to cult-classic celluloid, Night of the Living Dead (which received critical acclaim, enough to encourage the Library of Congress to select it for preservation in the National Film Registry as a film deemed "culturally, historically, or aesthetically significant") that these largely misunderstood, brain-swilling, reconstituted civilians thrived, shambling into our collective conscience and breathing new life into a stagnant horror genre.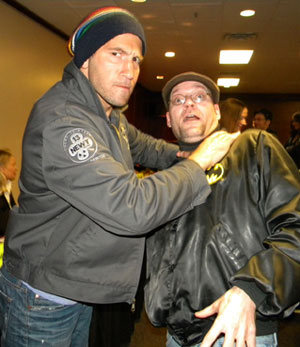 "Shoot 'em in th' head!" Jon Berthal (The Walking Dead) checks Todd for tell-tale signs of life — intelligent or otherwise.
Atrocious fashion sense, poor hygiene, social ineptitude, and other notable shortcomings aside, zombies are the new black: feasting on the vogue of vampires with a voracity that mirrors their gluttonous nature, infesting every facet of modern popular culture. From their continued presence plaguing popular media in the wake of the rampant success of Zombieland and AMC's The Walking Dead, it doesn't take a whole lot of brains to comprehend why zombies rank at the top o' the entertainment food chain. And, they're not hard to spot, really. Just glance around (carefully, mind you), and you'll see their desiccated imprint. Contemporary fiction offers fertile ground for zombies to flourish in, with literary standouts Max Brooks' Zombie Survival Guide and World War Z, Dave Wellington's Monster Island, John Austin's So Now You're a Zombie: A Handbook for the Newly Undead, Quirk Books' Pride and Prejudice and Zombies, Osprey Publishing's Zombies: A Hunter's Guide, and Matt Youngmark's comedy/horror reimagining of the choose-your-own-ending books, Zombocalypse Now, leading the frenzy. For more graphic treats, there's nothing quite like the four-color frights that surface in comic books.
Feed your need for visceral delights like Blackest Night (DC Comics), Zombie-Kid Diaries (Antarctic Press), I, Zombie (Marvel Comics), Marvel Zombies (Marvel Comics), Night of the Living Dead (Avatar), The Goon (Dark Horse), Victorian Undead: Sherlock Holmes vs. Zombies (DC Comics/Wildstorm), ZMD: Zombies of Mass Destruction (Red 5 Comics), Zombie Tales (Boom! Studios), Zombies Vs. Robots (IDW Publishing), and ZombieWorld (Dark Horse).
Of course, this undead trend bleeds even deeper into the mainstream in apocalyptic fashion in the realms of console arenas including the Dead Space, House of the Dead, Left 4 Dead, Plants Vs. Zombies, and Resident Evil franchises, as well as being enacted at home and abroad on tabletops everywhere with the likes of Battle Bunker Games,' Please Stand By, Eden Studio's, All Flesh Must Be Eaten RPG, Flying Frog Productions' Last Night On Earth, Hunter Books' Outbreak: Undead RPG, Looney Labs,' Zombie Fluxx, Mayday Games' Eaten By Zombies! Deck-Building Game, Palladium's, Dead Reign RPG, Samurai Game Labs' Zombie High School, Steve Jackson's Munchkin Zombies and Zombie Dice Game, Twilight Creation's Zombies!!! Board Game, Uber Goober's USOA: Undead States of America, and Zombie State Games' Zombie State: Diplomacy of the Dead, just to name a few.
Then there's Toy Vault's Zombies Afoot Plush Slippers, the Monroeville Zombies Hockey Team Apparel, Zombie Blood and Zombie Jerky in specimen-style pouches, Zombie Cologne (I don't know if it's meant to 'attract' 'em, or cover up their lingering stench — and, frankly, I don't intend on volunteering as a test subject), and an array of small companies creating novelty products such as Screaming Zombie Energy Drink, Gummy Brains, and Zombie Mints (which taste like "rotting brains," which begs to question how they know this?). The only staple they haven't gotten their gnarled little mitts on is breakfast cereals, but give it time: "Frosted Zombie Skin-Flakes" is bound to surface next to Frankenberry and Count Chocula in your local grocery aisle.
Not to be outdone, in 2008, 1,028 zombies shambled through Pittsburgh's Monroeville Mall (the endearing, near-legendary setting for Romero's Dawn of the Dead) in the second annual Zombie Walk, exceeding the Guinness record set by the walk in 2006 for the world's largest zombie gathering. This event has spawned numerous international gatherings including World Zombie Day [www.worldzombieday.org] and most recently, the grueling "Run For Your Lives" [runforyourlives.com] marathon in Darlington, MD, that prides itself in being "one part 5K, one part obstacle course, and one part escaping the clutches of Zombies!"
In its now annual tradition as October looms, with tongue firmly entrenched in cheek, the U.S. government, specifically the Homeland Security Department, continues to urge citizens to prepare for a zombie apocalypse as part of a public health campaign to encourage better preparation for genuine disasters and emergencies. The theory: If you're prepared for a zombie attack, the same preparations will help during a hurricane, pandemic, earthquake, or terrorist attack. The Federal Centers for Disease Control and Prevention last year first launched a zombie apocalypse social media campaign for the same purposes. Organizers also noted the relative proximity to Halloween.
As Jud Crenshaw said in Mary Lambert's adaptation of Stephen King's, Pet Cemetary, "Sometimes dead is better." In this case, it's profitable too.
******************
Todd A. Kaylor crawls forth from the fetid earth to occasionally spew drivel for GameTrade magazine, with half his brain tied behind his cranium. He apologizes in advance for scaring small children — intentionally.