Great Graphic Novels For Graveside Reading
Sep 01, 2012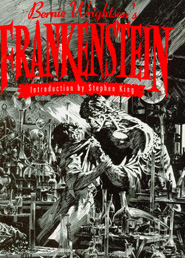 Wow. What an honor. The launch of the Halloween ComicFest web site, and I'm tapped to write a piece about the "greatest" horror graphic novels. No pressure, right? Not that I walked away from the opportunity. I actually embraced it. After all, I've been devouring horror books in all shapes and sizes since 1996, when I first started writing for the PREVIEWS catalog.
There are many titles that qualify as "great," but the attempt at naming all those titles would require writing a book rather than this article.
So here is a "greatest hits" of sorts, or to match the nature of these works, a list of "greatest crypts" should one want to be pointed towards the best cemetery for late night graveside reading.
We would have to start with, of course, Bernie Wrightson's Frankenstein. This graphic novel contains the full 1831 text of Mary Shelley's Frankenstein, with black-and-white illustrations by Wrightson which are considered his greatest works to date. With the release of Bernie Wrightson's Frankenstein, it was clear who had set the standard for line art and cross-hatching. Wrightson wanted his book to "have the feeling of woodcuts, or steel engravings" so that the reader could be transported back to the era of the story. The mission was accomplished.
He has said in interviews routinely that the project was a labor of love, which he worked on in between "paying gigs." This explains why it took seven years for him to complete the project, and why the illustrations have a place in comic book history. Published by Underwood-Miller in 1994, an over-sized (9" x 12") 25th anniversary hardcover edition was put out by Dark Horse in 2008.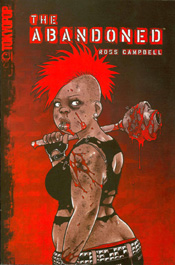 To step in another graveyard that's a complete departure from the style and tone of Frankenstein, Ross Campbell's The Abandoned is classic example of how thrills and chills dressed up in a different burial gown are just as tempting.
Published by Tokyopop in 2006, the book focuses on a red-headed black lesbian in a Southern town when the world comes to an end. There's a thin line between sex and death, as the book's main character, Rylie, tries to build a relationship with a girl while around them adults eat their own young. This grotesque and gory story is what put Ross Campbell on the map.
With the primary color red and a few shades of grey, Campbell gives us an over-the-top-all-you-can-eat zombie munch fest, with scenes of dismemberment that will make George Romero fans stand and cheer. Carnage like this is not easily found. So when you find it, horde it.
If you are successful in finding a copy of The Abandoned, don't stop there. Dig deeper. There is another grim and gory coffin you can unearth with Flesh-Colored Horror - The Junji Ito Horror Comic Collection. Published by Comics One in 1997, this is a compilation of works from Japanese horror manga artist Junji Ito. If you are not a fan of manga, this body of work will change your attitude towards the genre, as the stories in this collection leave little room for hope, and most likely will leave you depressed and near-suicidal.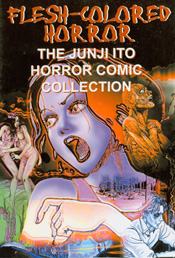 Reading these stories is akin to soaking in a bathtub filled with diluted battery acid. You don't feel the pain at first, but with each turn of the page, the agony is amplified. In short, people are driven to the point of madness. Spirals appear in the sky, and suggest that the apocalypse is only seconds away from impact.
And then there's that girl Tomie. You can cut her up, bury her, drown her, but it doesn't matter. Like an undead Energizer bunny, she keeps coming back to haunt you. It makes you think you're stuck in a Halloween movie marathon.
If it's those movies you're into, particularly the kind that feature bats with insatiable appetites for our neck juice, I strongly recommend you pop in your local shop for a copy of From Dusk Till Dawn, published by Big in 1996. This graphic novel based on the Quentin Tarantino Miramax movie was issued both in a standard edition, and Deluxe Edition that featured a photo cover, and 18 pages of additional material.
The plot of the book is relatively the same as the film: U.S./Mexico border is a mixed culture of guns and biker gangs, but on the outskirts of one town is a great bar with great girls that's … actually a vampire coven.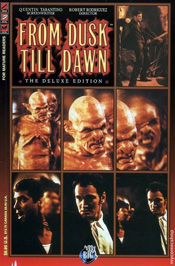 Once the doors are locked, the roaches that checked in don't check out. Cue up vampire violence you won't find in any Scooby Doo mystery. A good fun read that makes you remember why you got into comics in the first place: because they're so entertaining!
Lastly, before we leave the gloom and doom of the place where all souls go to rest, the last tombstone inscription we should read before leaving is Richard Sala's The Hidden, published in 2011 by Fantagraphics Books. To ask someone how they felt after reading this book is to hear how the person imagined themselves abandoned inside an old museum, or left to die in a dusty old library, or left on the floor with a broken back.
To read The Hidden is akin to seeing the nuclear bomb go off while you browse inside an antique shop. A total removal from reality, the book is a bleak picture of how humanity will be replaced once the zombies learn how to hide among us. And by the time we figure it out…we're already cornered. This book is proof positive why you don't want to make fun of the unknown. Should the unknown prove to be right in your own backyard, you'll learn that it was Richard Sala who sold you out. And he thought it was funny!
So there you have it, fiends. There is your incomplete list of headstones you can use as coffee tables should you go for a picnic in a cemetery. I hope you dig up these remains before Halloween, as they're guaranteed to put you in the mood for a pumpkin patch party. Plus, I'd love to hear if any of them helped put some gray hair on your head.