Halloween ComicFest 2013 Comic Book Lineup Announced
Jul 10, 2013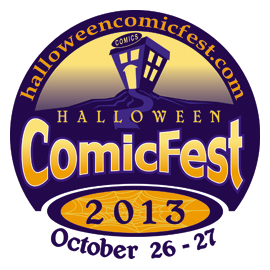 (BALTIMORE, MD)-(July 10,2013)-After the success of last year's inaugural Halloween ComicFest, Diamond Comic Distributors is pleased to announce the return of the industry-wide collaboration and the line-up of comics for the 2013 event.

Halloween ComicFest is the biggest celebration of Halloween-themed comics taking place at participating comic shops in North America and elsewhere on the weekend before Halloween, October 26th and 27th. During that time, adults and kids can go into their local comic shop and get free comics and mini-comics published specifically for the event. Many retailers will be planning special HCF activities, costume contests and more for their stores.
"This year we have 16 publishers creating Halloween themed comics and mini-comics for the event," said Diamond's Director of Marketing, Dan Manser. "There are 11 new full-sized comics and 11 new mini-comics being released with titles such as Batman, Sonic the Hedgehog, Thor, Archie and many more all written with a Halloween twist.
Designed to celebrate comic shops as active Halloween destinations and to reach new customers, Halloween ComicFest helps retailers and the entire industry springboard into the year-end holiday selling season. Retailers and comic fans will have the chance to pass out comics instead of candy this year with mini-comics also available to purchase in bundle packs. In the August issue of Diamond's PREVIEWS catalog, retailers will find complete details on how to participate, including the specially published comics and mini-comics and promotional items available to order for the event.
Consumers are encouraged to check out www.halloweencomicfest.com over the coming months for more information regarding the event, local retailer activities and costume contest details. Fans can also get the most up-to-date information regarding all the festivities by "liking" www.facebook.com/halloweencomicfests and following twitter.com/halloweencomic.
FULL-SIZED COMICS
ACTION LAB COMICS

SKYWARD:
INTO THE GRIM

ARCHIE COMICS

SONIC THE HEDGEHOG
#1

ASPEN MLT

SOULFIRE: GENESIS
2013

AVATAR PRESS

DISENCHANTED
DEBUT



DC COMICS

BATMAN:
LI'L GOTHAM
#1

DC COMICS

BATMAN:
THE LONG HALLOWEEN
#1

IDW PUBLISHING

CARTOON NETWORK
SUPER SAMPLER

MARVEL

THOR: GOD OF THUNDER
#1

MARVEL

ULTIMATE SPIDER-MAN
ADVENTURES #1
VIZ MEDIA

JUNJI ITO'S
UZUMAKI





YEN PRESS

MISS PERENGRINE'S
HOME FOR
PECULIAR CHILDREN
#1
MINI-COMICS
ACTION LAB COMICS

VAMPLETS: THE LEGEND OF
THE GHOST PONY

ANTARCTIC PRESS

ZOMBIE KID DIARIES 3:
THE WALKING DAD

APE ENTERTAINMENT

SESAME STREET
#1

ARCHAIA ENTERTAINMENT

PANTALONES, TX ZOMBINATA

ARCHIE COMICS

ARCHIE'S PALS 'N' GALS #1

BOOM! STUDIOS

ADVENTURE TIME

DARK HORSE COMICS

ITTY BITTY HELLBOY
#1

IDW PUBLISHING

MY LITLE PONY:
HALLOWEEN EDITION

IMAGE COMICS

SUPER
DINOSAUR
ONI PRESS

SKETCH MONSTERS:
ATTACK OF THE 100-FOOT
BOOGER

VIZ MEDIA

BEN 10 OMNIVERSE
HALLOWEEN
SPECIAL