Spidey Swings Into Comic Shops This Halloween
Sep 09, 2016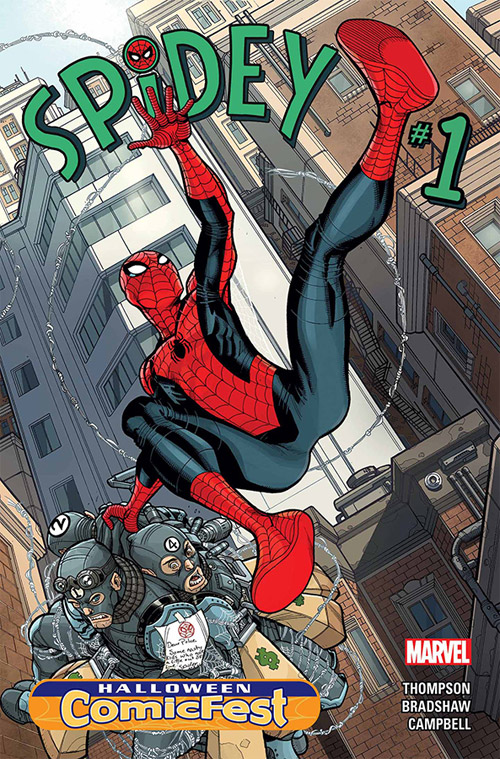 Think you know everything about Peter Parker's early days? Think again. It's action, adventure and a rip-roaring romp in classic Marvel style as Spidey swings onto your local comic shop on Halloween ComicFest!

Writer Robbie Thompson tells us all about Spidey #1 that you can get for FREE at your local comic shop on October 29th!
---
Halloween ComicFest: Why spotlight a younger Peter Parker by rereleasing Spidey #1?
Robbie Thompson: Spider-Man is a timeless character, and rereleasing Spidey #1 allows us to show folks where the character got his start. If you just met him through the movies, this is a great jumping on point. If you've been a fan for decades, this is a chance to see Spidey in stories from back in the day. It's perfect for all types of fans!
Halloween ComicFest: What are the advantages to creating stories with a teenage Peter Parker instead of his adult self?
Robbie Thompson: The advantage to telling stories about his teenage years is that we get to tell stories that are one and done -- each issue telling a contained story, and we get to reflect on the characteristics that make Spidey so great -- he's grown so much over the years, but so much of who he is can be found in stories set in his youth.
Halloween ComicFest: What can fans expect from Spidey #1; why should they pick this book up first?
Robbie Thompson: Fans should pick up Spidey #1 because it's a good old fashioned, rippin' yarn from Spidey's youth, beautifully drawn by Nick Bradshaw and colored by Jim Campbell. It's also a great gateway into thousands of Spider-Man stories, from the Lee/Ditko years, all the way up to Dan Slott's epic run on the character.
Halloween ComicFest: Aside from Peter Parker, what other iconic Spider-Man characters make an appearance in the book?
Robbie Thompson: Folks will recognize the villain straight away -- Doctor Otto Octavius, who is full-on Doc Ock in this tale. And long time fans of Spider-Man will see many familiar faces in Peter's classmates!
Halloween ComicFest: What are some of your favorite Spider-Man stories?
Robbie Thompson: Wow -- there's so many to choose from! I love Kraven's Last Hunt, the Spider-Man/Human Torch mini, Superior Spider-Man, I'm even a sucker for the Clone stories! When I got the job to work on Spidey, I went back and re-read the original Lee/Ditko comics, and my favorite is probably If This Be My Destiny. Just pure, classic Spidey in every panel.
Halloween ComicFest: What are some of your favorite Halloween movies or monsters?
Robbie Thompson: Another case of too much to chose from! As for Monsters, I love the classic Universal Monsters, The Thing, Gremlins, -- as for movies, Halloween, Nightmare Before Christmas (still kind of a Halloween movie!) but my favorite depiction of Halloween is probably in E.T. -- that's pretty much my childhood right there in that sequence (minus the alien, of course!)
Halloween ComicFest: If fans enjoy Spidey #1, what other comics would you recommend?
Robbie Thompson: Spidey #2-#12!