Masters of Horror Comics: Afterlife with Archie
Jun 26, 2017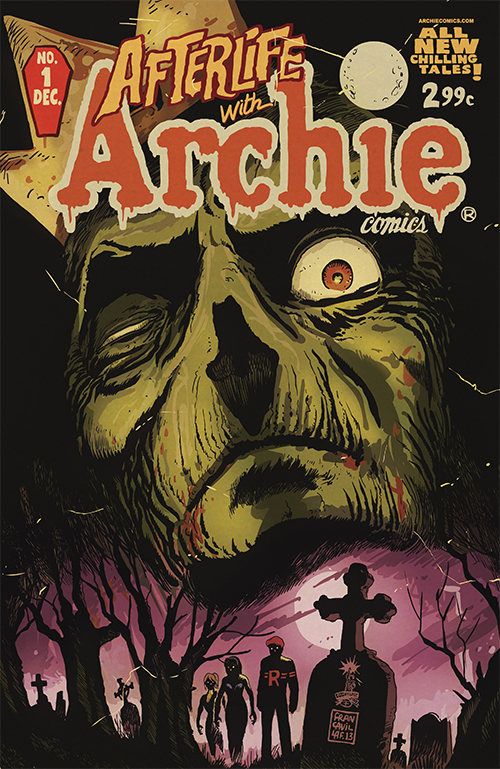 In October 2013, inspired by Eisner-Award winning Francesco Francavilla's zombie-themed Life With Archie #23 variant cover, Archie comics released the title that would redefine the company's potential to be more than just all-ages: Afterlife with Archie. This TEEN+ series by Roberto Aguirre-Sacasa with Francavilla stunned readers as our favorite Archie gang took on a zombified-Jughead as he started the end of the world.
Archie is known for it's wild genre mashups, including Archie vs. Predator and the older series Archie vs. The Punisher; however, no one had taken on a wild idea like those to turn it into a serious series. Aguirre-Sacasa and Francavilla turned Archie on its head, incorporating all the familiar Archie mythology--the love triangle between Archie, Betty, and Veronica; Jughead's love for his dog Hotdog; and Reggie Mantle's struggle to do the right thing--while presenting a scenario where Jughead goes to Sabrina the Teenage Witch to bring his dead dog back to life.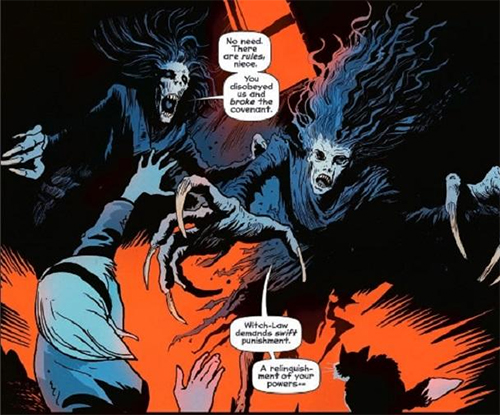 Because the series played off of the relationships we already know and love with the Archie gang, the supernatural situation they're thrust into only intensifies how concerned readers are in finding out who'll survive. "I was having breakfast with [Archie Comics co-CEO] Jon Goldwater and his son," said Aguirre-Sacasa in an interview with the LA Times. "I was raving about Francesco's variant cover, saying how awesome it was, and how — as a hard-core horror fan — I was bummed when the interior of that comic book wasn't about zombies — and it was sort of like a mind-mend moment. We all thought it at the same time: 'Holy crap, a zombie apocalypse in Riverdale would be an awesome story!'"
Since launching in October 2013, there are now 10 issues available covering two arcs: Escape from Riverdale and Betty R.I.P. The series has been called "terrific" and one of the "best horror comics... in a very long time" in no small part due to Francavilla's artwork, which won a Ghastly Award for "Best Colorist."
As we get raring for Halloween ComicFest 2017, now's the perfect time to dive into the first collection of Afterlife with Archie stores!
---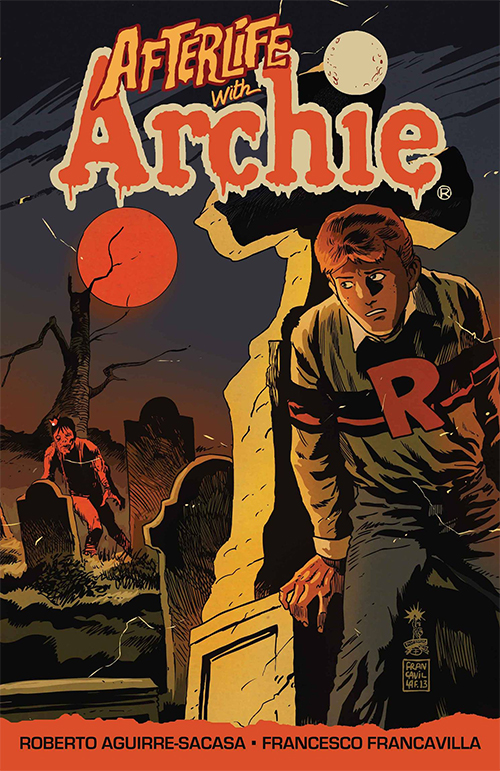 AFTERLIFE WITH ARCHIE VOL 1: ESCAPE FROM RIVERDALE
MAR140833
ARCHIE COMICS
(W) Roberto Aguirre-Sacasa
(A) Francesco Francavilla, Jack Morelli
(CA) Francesco Francavilla
When Jughead's beloved pet Hot Dog is killed in a hit and run, Jughead turns to the only person he knows who can help bring back his canine companion - Sabrina the Teenage Witch. Using dark, forbidden magic, Sabrina is successful and Hot Dog returns to the land of the living. But he's not the same - and soon, the darkness he brings back with him from beyond the grave begins to spread, forcing Archie and the gang to try to escape Riverdale! Collects issues #1-5.
---
You can pick up these titles at your local comic shop! If you're unsure where your local comic shop is, use the Comic Shop Locator Service.
Before Halloween ComicFest, make sure you check out the other events planned at your local comic shop for the rest of the year. Keep up to date with the best times to return to local comic shops with the What's @ Comic Shops 2017 Event Card--ask your local retailer ahead of time if they're participating in these events!