Sean Patrick O'Reilly On How Lovecraftian Mythology Rises from the Depths in "The Undersea Kingdom"
Sep 28, 2017
Cthulu isn't the only God in town when it comes to Lovecraftian mythology and in Howard Lovecraft and the Undersea Kingdom from Arcana, the deity-like Outer Gods are ready for the spotlight. Arcana publisher Sean Patrick O'Reilly walks us through what makes Lovecraft so appealing for stories and why you should get excited for this Halloween ComicFest all ages mini comic!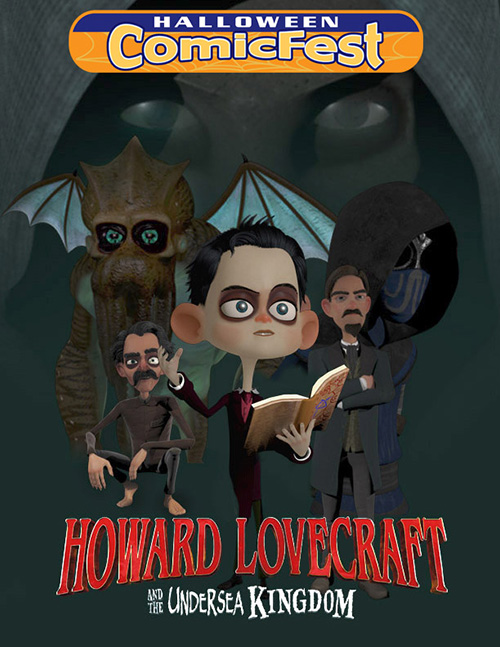 HCF 2017 Howard Lovecraft and the Undersea Kingdom
JUL170054
ARCANA STUDIOS
(W) Bruce Brown, Sean Patrick O'Reilly
Howard Lovecraft's family has been imprisoned on a far-flung alien planet, Spot hopelessly captured, and he is slowly becoming a mindless Fishman. Accompanied by his insane father and a librarian, they must face the all-powerful ruler of the Outer Gods, a revengeful old enemy, an army of deadly monsters, and a lethal world called Yuggoth, to save the day. This is an all new story in the Howard Lovecraft trilogy and be sure to see the animated films starring Ron Perlman, Christopher Plummer, Jane Curtin, Jeffrey Combs, Doug Bradley and Mark Hamill! [ALL AGES]
---
Halloween ComicFest: Along with Howard, what can you tell us about the cast of characters? Who should fans be aware of heading into the Howard Lovecraft HCF comic?
Sean Patrick O'Reilly: This new release for the Halloween ComicFest is really an exciting story for us to tell, as we get a more in depth at Howard Lovecraft & the Undersea Kingdom by getting to look at some of the secondary characters and their motives. The HCF story dives into Dr. Henry Armitage of Miskatonik University, who is perfectly voiced by Mark Hamill in the Howard Lovecraft film series, and what he and some of his colleagues are up to before the events of The Undersea Kingdom.
For those who might not be familiar with Lovecraftian mythology, what exactly are the Outer Gods and how does the mythos play into your comic?
The Outer Gods are deity-like beings of unfathomable power and cosmic proportions. For an example they are more powerful than Cthulhu, who himself is an Elder God. To put in perspective we reveal in the Howard Lovecraft lore the relationship between an Outer Gods, Azathoth, and Cthulhu. There are lots of mention of Outer and Elder Gods in Arcana's Howard Lovecraft stories, so we hope that our readers are averse in Lovecraftian lore.
Why should fans pick your comic first on Halloween ComicFest 2017?
Arcana has been rapidly growing a unique Lovecraftian Universe, from the comics to the screen the amount of high quality content that is something we are very proud to share. This is what Howard Lovecraft can give to its fans, a constant stream of new story worlds for them to dive into. With the second feature film coming up for release this December, and the third animated feature in the trilogy later in 2018, Arcana with Howard Lovecraft continues to entertain its audience.
What got you reading comics? What are some series you're reading today?
For me, the ability to be engrossed by a story both mentally and visually is a huge appeal of comics. Transformers, Secret Wars, the Mutant Massacre and Kingdom Come are the stories that really were key moments during my decades of comic book reading. These days it's Mouse Guard and The Flash that have my attention. A comic book captures the imagination of its audience because not only are they a reader, but a viewer as well. The massive storylines that can be told over issues and even volumes is very similar to the popularity of serial television series in today's world.
What spooky, Halloween titles would you recommend to new readers and why?
Definitely the Howard Lovecraft hardcover, Howard Lovecraft & the Three Kingdoms. Another is Becoming by Brooke Burgess. The story follows a student who asks of his teacher to teach him something new, ask and you shall receive. The setting of a dark university campus drives this horror comic forward as the student is drawn into a disturbing game of life and death. Becoming fits into the psyche of the modern youth as they are driven, but seek shortcuts wherever they can take them.
Why do you think events like Halloween ComicFest are great for the comic book community?
Events like this are integral in recruiting new readers and fans of comic books. Inviting a new audience to be a part of any new community can be intimidating, but with events like this with a welcoming, friendly environment, diehard and new readers alike can experience tons of new content. In turn, the community itself grows, while as well becoming tighter knit; it's a win-win all around.
What do you think comic shops bring to the comic book community?
A shop is a place where you can still go and actually talk to comic book lovers, trade favorite reads, art styles, and storylines. With the popularity and ease of buying online, be it a hard copy or an e-book, much of the personable interaction of reading comics has been lost. This is why physical shops are still integral to the community, to have a sort of community center where you can interact with like-minded people.
Where do you plan to spend Halloween ComicFest 2017?
At Metropolis Comics & Toys in Burnaby. Arcana loves these events because it gives us another opportunity to interact with readers and hear their stories.
---
You can find Howard Lovecraft on Saturday, October 28th on Halloween ComicFest at participating local comic shops. Howard Lovecraft is one of the 12 all ages mini-comics and is available to purchase in packs of 25 for $4.99 at local comic shops starting on Wednesday, September 29th.
To find a participating shop near you, use the official Halloween ComicFest 2017 Store Locator.