Writer Shawn Gabborin On How Black Betty Isn't "the Usual Always Angry, Out for Vengeance" Bad Girl
Oct 03, 2017
Time to move over Buffy--you aren't the only B-named monster slayer in town. Action Lab and Halloween ComicFest welcome Black Betty--a plus-sized tattoed monster hunter--to the fold as she joins the Zombie Tramp universe in Action Lab's Halloween ComicFest title. We sat down with writer Shawn Gabborin to find out more about this "not the usual 'always angry, out for vengeance' bad girl."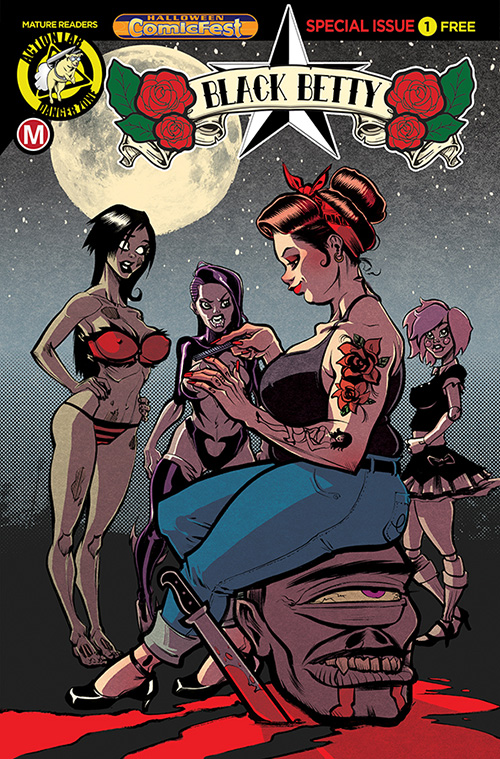 HCF 2017 Black Betty One-Shot
JUL170021
ACTION LAB - DANGER ZONE
(W) Shawn Gabborin
(A/CA) Timothy Weaver
A new title in the Zombie Tramp universe starts here! There's a new monster hunter on the scene. Got a demon in your closet? A werewolf in your woods? A siren at your local beach? Black Betty can kill anything... if you've got the money! Rock out with your new girl Black Betty as she travels the country battling anything that goes bump in the night. Plus-sized, tattooed, with rockabilly style... Black Betty isn't your average girl. Enjoy this HCF sneak peak of the ongoing series as Black Betty is paid to save a man's daughter from... well, you'll have to read to find out! [MATURE]
---
Halloween ComicFest: For anyone newcomers, what's important to know about the Zombie Tramp universe going into this story?
Shawn Gabborin: For this story, there is a recap that catches you up on all the characters, so you don't have to be heavily saturated in any of the books to enjoy this series.
How does Black Betty stand apart from other horror series featuring female leads?
There's a lot that separates Black Betty from most horror series. Obviously, her look stands out. She's plus-sized, tattooed, and is a real brawler, so she's definitely her own in that aspect. But that's just the surface. She's not the usual "always angry, out for vengeance" bad girl that populates so many horror stories. Sure, if you cross her, she'll make you sorry that you did, but at the core she's trying to help people. She can kill anything, but she still has to survive… so she's going to charge you for the service!
Who's the target audience for Black Betty? What kind of fan will enjoy the comic?
Anyone who enjoys a strong female character who is comfortable in her own skin will dig Black Betty. Fans of things like Supernatural, Buffy, and old school Ghost Rider will fit right in with what we are doing in this comic.
What got you reading comics? What are some series you're reading today?
I was drawn in by the artwork. I just fell in love with the visuals. There's something magical about seeing what the creators have written/drawn, yet still having enough of your own imagination involved when it comes to voices and between the panel action, that hooked me from the start.
As far as comics I'm reading, I love Harrow County. It's a beautiful, atmospheric horror comic. Detective Comics has been amazing since Rebirth. Doctor Strange is still holding strong as a prime example of how to update a classic character. And Paper Girls just all around awesome!
What spooky, Halloween titles would you recommend to new readers and why?
I already mentioned my love for Harrow County. Nailbiter was another really fun one, more on the gory side than atmosphere, but amazing characters. And I can't recommend Locke & Key highly enough. Absolutely fantastic! Tomboy was another great story with deep characters. Honestly, it's a good time for horror comics!
Why do you think events like Halloween ComicFest are great for the comic book community?
I'm a big horror fan, have been my entire life. So anytime there is an event or new comic/movie/tv show that offers a gateway for new people to find the genre, I'm happy! My 5 year old found her own way to things like Hotel Transylvania and The Chipmunks Meet the Wolfman through Netflix, and has since started grabbing more kid-friendly horror comics when we go to local shops. I can't wait to see what she grabs at this year's HCF!
What do you think comic shops bring to the comic book community?
Access to new titles. One of my favorite things is going to the comic shop and just running down the wall of new books. There's always something there I didn't know existed or forgot to order. It's an experience I don't think you'll ever be able to replicate outside of the store.
Where do you plan to spend Halloween ComicFest 2017?
I'll actually be doing a signing at Illusive Comics & Games in Santa Clara, CA and will be set up at the Famous Monsters Halloween Convention in San Jose, CA that weekend, so two places to see me! If I were home here in Pittsburgh that weekend, I'd be hitting up Infinity Comics in Murrysville, PA (been shopping there for 20 years) and New Dimension Comics in the Pittsburgh Mills Mall (unrivaled selection).
---
You can find Black Betty on Saturday, October 28th on Halloween ComicFest at participating local comic shops. To find a participating shop near you, use the official Halloween ComicFest 2017 Store Locator.