Writer Mariah McCourt Covers Charmz's New Title Starring Crimson Volania Mulch
Oct 05, 2017
What's worse than waking up in a cemetary? Waking up in a cemetary with absolutely zero recollections except for your name, and it's something Crimson Volania Mulch has to deal with at the beginning of Stitched by Mariah McCourt and Aaron Alexovich. Crimson stars in one of the newest Charmz titles from Papercutz, and Halloween ComicFest sat down with McCourt in advance of Crimson's appearance during comics' spookiest event: Halloween ComicFest!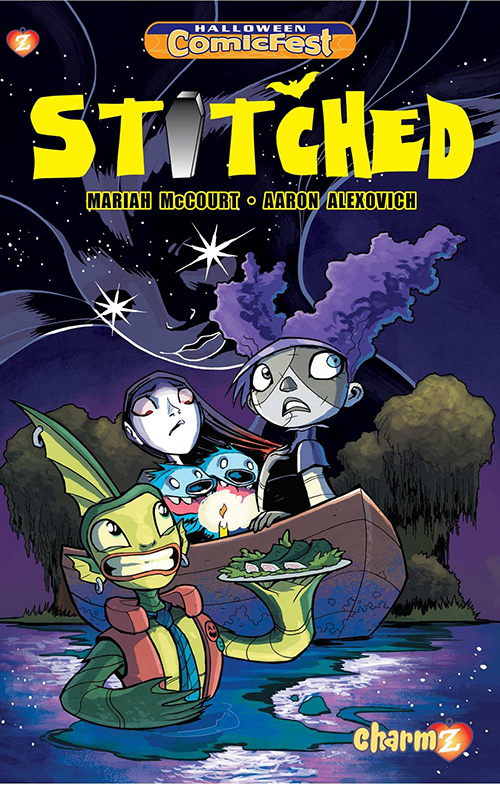 HCF 2017 Stitched
JUL170060
PAPERCUTZ
(W) Mariah McCourt
(A/CA) Aaron Alexovich
A special excerpt from the premiere Charmz graphic novel. Crimson Volania Mulch has a problem; she just woke up in a crypt and, besides her name, has no idea of who, where, or what she is. Welcome to the Cemetery of Assumptions, a vast landscape of stones, mausoleums, and secrets. Home to monsters and mayhem, it may also hold the answers to her unknown parentage. Crimson is a resourceful patchwork girl and determined to find the answers. [ALL AGES]
---
Halloween ComicFest: What kind of character dynamic can we expect from Crimson and the companions she meets, like Simon, Quinton, Wisteria, and Parameter?
Mariah McCourt: Crimson has distinct relationships with each character she meets, whether they're a friend, a crush, a foe, or a complicated combination of all of those. Crimson is a very curious, upbeat character, and she wants to get to know people and her world. She's sweet and caring but fierce when she needs to be. She basically gets along with everyone, eventually, and she never gives up. But she's not perfect; she's pretty judgy and she can be self-involved. But she'll do anything for people she cares about and that ultimately makes her the best kind of person to know.
What kind of world is the Cemetery of Assumptions?
Assumption is a world that exists in perpetual night, on the cusp of the dead and undead. There's lots of magic and wonder, and while it's definitely spooky and creepy, it's also full of fascinating characters and locations where virtually anything is possible. And it's a lot of fun!
Why should fans pick your comic first on Halloween ComicFest 2017?
STITCHED is a really kinetic book that's spooky and sweet, with all your favorite kinds of monsters and creatures, and a compelling story about figuring out who you are and what your place in the world is. It's basically a book that takes place in a world that's Halloweeny 24/7, so you're getting a lot of spooky goodness all in one place!
What got you reading comics? What are some series you're reading today?
What got you reading comics? What are some series you're reading today?
My dad used to bring home Manga from Japan when I was little, and as I got older I started trying out more comics at our local shop. The comic that really got me into them was Neil Gaiman's "Death: The High Cost of Living". There's a lot of the tone of that story in STITCHED, where scary things like death or monsters exist alongside joy and curiosity and love.
At the moment I've been catching up on series like Pretty Deadly and I absolutely adore The Tea Dragon Society from Oni.
What spooky, Halloween titles would you recommend to new readers and why?
Oof, that's a tough one! I mean, obviously STITCHED because it's got everything you could want and it's a great book for parents and kids to read because it's really for any age. I'm a big horror comic fan so I'd also have to recommend Lucifer, the Dark Horse collections, Tales from the Crypt, all that kind of stuff.
Why do you think events like Halloween ComicFest are great for the comic book community?
There are so many books out there that giving books with a spooky feel a spotlight is a lot of fun for this time of year. I think horror and creepiness work really well in the comics medium, too, so it's a great way to celebrate the best holiday and support comics, too.
What do you think comic shops bring to the comic book community?
Community! The best comic shops are a great place to meet other fans, talk about comics, and get great recommendations tailored to the kinds of stories you love. Finding your comic shop and comics community is a lot like coming home.
Where do you plan to spend Halloween ComicFest 2017?
I'm in LA so there are a bunch of shops participating. But I think Blastoff Comics will probably be my spot, the owner is a comics creator and friend and I know they'll make it a great time.
---
You can find Stitched on Saturday, October 28th on Halloween ComicFest at participating local comic shops. Stitched is one of the 12 all ages mini-comics and is available to purchase in packs of 25 for $4.99 at local comic shops starting on Wednesday, September 29th.
To find a participating shop near you, use the official Halloween ComicFest 2017 Store Locator.