Aspen Editor-in-Chief Characterizes Their Choose Your Own Aspen Adventure for Halloween ComicFest
Oct 17, 2017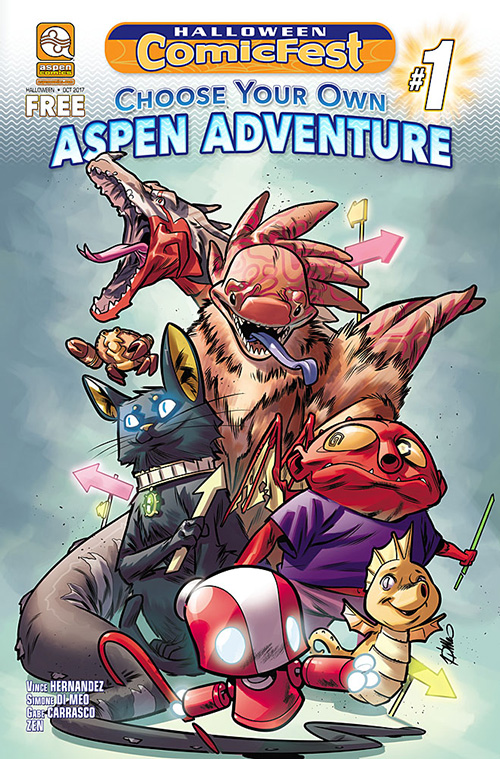 HCF 2017 Choose Your Own Aspen Adventure
JUL170024
ASPEN MLT
(W) Vince Hernandez
(A/CA) Simone Di Meo
Aspen Comics' jam-packed, activity-filled, absolutely free coloring book returns... but, this time with a TWIST, and a whole gang of Aspen Animals ready to usher in a new era of fun! Readers can Choose Your Own Adventure in this time-spanning, fantasy realm-busting and speed-bursting new interactive tale! The Aspen Universe has been split into three and it's up to Aspen readers to help guide our hero creatures to safety and unite these worlds back together, all in one exciting coloring book! [ALL AGES]
---
Halloween ComicFest: What are the three worlds broken out of the Aspen Universe? Who should readers be familiar with before diving into the HCF comic?
Vince Hernandez: Without giving away too much, the three worlds that encompass our Aspen: Choose Your Own Adventure issue this year are a huge mix of ALL of our most exciting and fun characters from various Aspen titles—we couldn't choose just one! So, if you're a fan of all our books or this is your first time picking up an Aspen title, this is the perfect book to experience everything we have to offer!
How does giving readers the ability to customize their own adventures enhance the reading of comic books for them?
Giving readers the chance to customize the story to their own interest will provide readers multiple chances to re-read this issue and discover all of the many facets that we've included in the story. There is more value here than your usual comic book in that you can read this several times—and it's free!
Why should fans pick your comic first on Halloween ComicFest 2017?
We've certainly attempted to give fans and new readers the best bang for their buck possible, and we hope they'll agree once they read the many exciting activities and story we've included. But, we think ALL of the titles offered this year for Halloween ComicFest look to be a great read and encourage readers to check out as many as possible!
What got you reading comics? What are some series you're reading today?
Spider-Man can take credit for initially getting me interested in comics, and eventually Marvel, Image and yes, I'll admit—Malibu Comics—were some of my early favorites. Today I enjoy several Indie and mainstream titles: of course Aspen Comics but I also enjoy keeping up with Ultimate Spider-Man, Sons of the Devil, Zombie Tramp, Vampirella and several other creator-owned books.
What spooky, Halloween titles would you recommend to new readers and why?
I would encourage readers to check out a few of our supernatural/horror titles such as No World, The Scourge and Dead Man's Run. All of these books are great exciting reads by terrific writers like Greg Pak and Scott Lobdell!
Why do you think events like Halloween ComicFest are great for the comic book community?
Events such as Halloween ComicFest bring new readers into comic book shops, which is great for the industry as a whole, but specifically in building the sense of community around the comic book store. Fans and new readers should be able to always visit their local shops as a great escape into these amazing stories and creations.
What do you think comic shops bring to the comic book community?
Comic book shops are an integral part of the comic book community. Without comic book shops there would be no true source for readers to try out and discover amazing new titles.
Where do you plan to spend Halloween ComicFest 2017?
I will actually be with the Aspen Comics team at Stan Lee's Comikaze Expo in Los Angeles on Halloween ComicFest but will also be stopping by the Comic Bug in Culver City that day. Fans can find me at either location!
---
You can find Choose Your Own Aspen Adventure on Saturday, October 28th on Halloween ComicFest at participating local comic shops. To find a participating shop near you, use the official Halloween ComicFest 2017 Store Locator.