Halloween ComicFest 2018 Comics Announced!
Jun 13, 2018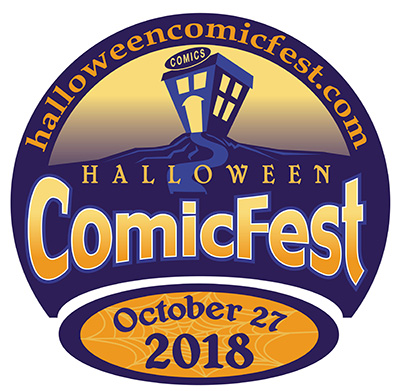 This year, Halloween ComicFest (HCF) features a whole new selection of 34 comic book titles for the industry's most anticipated fall event taking place Saturday, October 27, 2018 at participating comic shops worldwide!

Of the 34 titles available, 22 are Full Size and 12 are Mini Comics. All will be available for free at participating comic shops on Saturday, October 27th. The Mini Comics will also be available for purchase in packs of 25 for $4.99 at the beginning of October, which are perfect to give to trick-or-treaters on Halloween.

"This year's Halloween ComicFest is poised to be the best yet!" said Halloween ComicFest spokesperson Ashton Greenwood. "The comics available this year reflect a broad range of tastes. The All-Ages Mini Comics feature popular characters like Rocky & Bullwinkle, Archie, and the Teenage Mutant Ninja Turtles, while the Full-Size Comics feature well-known properties like Hellblazer, Spider-Man, and Goosebumps! Halloween ComicFest is the perfect time to introduce friends and families to the wonders of comic shops, and experience them as premiere destinations for Halloween fun!"

A complete listing of all the HCF titles, including the HCF Commemorative T-Shirt by Eisner Award-winning creator Eric Powell, can be found in the July issue of Diamond Comic Distributors' PREVIEWS catalog, on sale at all local comic shops on June 27th, 2018.
Check out the complete list of available comics below and make sure to visit halloweencomicfest.com over the coming months for more updates and information on the event, the available comics, and local retailer activities. Fans can also stay up-to-date with Halloween ComicFest news on Facebook, Twitter and Instagram!


Halloween ComicFest 2018 Full Size Comics
PRINCELESS: RAVEN: PIRATE PRINCESS
ACTION LAB
DANGER DOLL PRESENTS:
AMALGAMA LIVES!
ACTION LAB - DANGER ZONE
A WALK THROUGH HELL #1
SPECIAL EDITION
AFTERSHOCK COMICS
GENESIS: THE EDGAR RICE BURROUGHS
UNIVERSE
AMERICAN MYTHOLOGY
HOWARD LOVECRAFT AND THE KINGDOM
OF MADNESS
ARCANA STUDIOS
JUGHEAD: THE HUNGER #1 SPECIAL EDITON
ARCHIE COMICS
ASPEN COMICS PRESENTS: ASPEN MASCOTS
ASPEN COMICS
LADY MECHANIKA: LA DAMA DE LA MUERTE
BENITEZ PRODUCTIONS
HELLBOY AND THE B.P.R.D.: 1953 -
THE PHANTOM HAND & THE KELPIE
DARK HORSE COMICS
JOHN CONSTANTINE:
THE HELLBLAZER #1
DC ENTERTAINMENT
GOOSEBUMPS: MONSTERS AT MIDNIGHT
IDW PUBLISHING
W.I.T.C.H. #1
JY
BATTLE ANGEL ALITA:
HOMECOMING
KODANSHA COMICS
MS. MARVEL #1
MARVEL COMICS
SUPERIOR SPIDER-MAN #1
MARVEL COMICS
THOR #1
MARVEL COMICS
HILO: THE BOY WHO CRASHED TO EARTH
RANDOM HOUSE BOOKS FOR YOUNG READERS
MONSTROUS: THREE MONSTERS AND
A BABY ONE-SHOT
SOURCE POINT PRESS
APOSIMZ SAMPLER
VERTICAL COMICS
FRANKENSTEIN: JUNJI ITO STORY
COLLECTION SAMPLER
VIZ MEDIA
SHIBUYA GOLDFISH VOL. 1
YEN PRESS
WINDMAKER: BIRTH OF A KING
YOUNEEK STUDIOS
Halloween ComicFest 2018 Mini Comics
VAMPLETS: THE UNDEAD PET SOCIETY:
HELP THE PONY!
ACTION LAB
SPOOKHOUSE SAMPLER
ALBATROSS FUNNYBOOKS
ROCKY & BULLWINKLE ADVENTURES
AMERICAN MYTHOLOGY
ARCHIE'S MADHOUSE MAYHEM
ARCHIE COMICS

OVER THE GARDEN WALL
AND INTO THE UNKNOWN
BOOM! STUDIOS

NANCY DREW #1
DYNAMITE ENTERTAINMENT
JOHNNY BOO AND THE
SPOOKY TREE
IDW PUBLISHING
TMNT: RISE OF THE TEENAGE
MUTANT NINJA TURTLES
IDW PUBLISHING
GHOST FRIENDS FOREVER
PAPERCUTZ
HOLLOW FIELDS SAMPLER
SEVEN SEAS ENTERTAINMENT
SPLATOON
VIZ MEDIA
Z-Z-Z-ZOMBIE BOY VOL. 1
YEN PRESS