HCF18 Interview: Howard Lovecraft Creator Discusses Madness, Magic, and Forbidden Knowledge
Aug 13, 2018
There's something about an item being forbidden that just makes you want it more. And that's certainly the case with Howard Lovecraft's Necronomicon, the book of forbidden knowledge!
Everyone in the Lovecraft Universe is after it because it's full of secrets about magic: how it functions, how to use it, and what forces are at work there. But with the book in Howard's possession, and him still learning how to harness its power, a trip to Antarctica to prevent the awakening of Cthulhu could become much more complicated than originally planned!
Read our interview below with Howard Lovecraft creator, Sean Patrick O'Reilly to find out more about what spooky surprises await you in Arcana Studios' Halloween ComicFest title, Howard Lovecraft and the Kingdom of Madness! Make sure to check out the preview pages at the end of the interview, and click here to check out our PREVIEWS Prevue of the comic! You can also see the full list of comics available at participating comic shops on Saturday, October 27 over here!
---
Halloween ComicFest (HCF): For those unfamiliar with the Howard Lovecraft series, how would you describe its universe?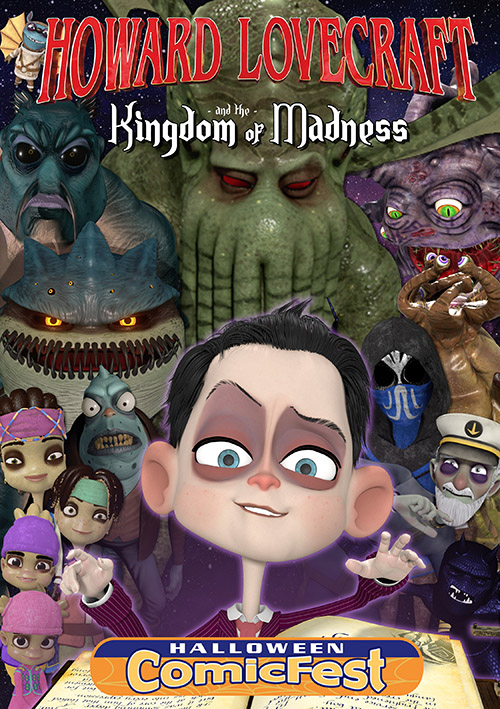 The Howard Lovecraft universe is a spooky place of monsters, magic, and mayhem. The important thing to know is not all the monsters are bad, and some of them want to help. There are scary, powerful things out there that want to end the universe. It's up to Howard Lovecraft to stop them.
HCF: What can fans expect from this comic? Why should they pick it up first on Halloween ComicFest?
You're getting a glimpse of Howard Lovecraft's Necronomicon—the book of forbidden knowledge that drove his father, Winfield, to the mad house. It's full of secrets about how magic works in Howard Lovecraft's universe… and the forces at work there.
HCF: How does this story tie in to the upcoming Howard Lovecraft and the Kingdom of Madness feature film?
The Necronomicon's played an important role in every story in the series: the bad guys want it, Howard is still just learning to use it, and it's too powerful to just be hidden away in a vault somewhere. The book wants to be used, for better or worse. Let's just hope it stays in the right hands…
HCF: Why is Halloween ComicFest the perfect event to release this brand-new Howard Lovecraft story?
Are you kidding? Halloween's the perfect time for it! Who doesn't love a good scare? The ice water trickling down your spine? (shivers) I love it.
HCF: What is your favorite thing about working in comics?
With comics, the only limit is the creators' imagination. Sometimes it's one person, sometimes it's a few. In any case, literally anything can wind up on the page. There's no end to the stories you can tell.
HCF: Many newcomers will be introduced to comics for the first time on Halloween ComicFest – what was the first comic you remember reading?
The first ever comic book I remember buying was in 1984 with Transformers #1 at my local Husky gas station in Maple Ridge. I loved the toys and to reading the comics was something that took my imagination and the stories to a whole new level. I began buying comics semi-regularly and remember buying Secret Wars #4 (I came late to the party). This book blew my mind and looking back it was truly a magical moment where I cherished the book. This started my comic collection (it took a lot of searching before I found the first three issues). Finally, my mom took me to Toys R Us in Blaine and I bought X-Men #210 ('86) and to me this was advanced reading. From that moment I became a huge X-Men collector and have been involved with comics ever since.
HCF: Why do you think events like HCF are great for the comic book community?
They're a great chance for readers to pick up something new, something they may have overlooked before. Plus it's a phenomenal way to introduce new scary comics, which have always been some of my favorites.
HCF: What spooky Halloween titles would you recommend to new readers and why?
Ooooh, good question! HELLBLAZER has some great stories in its library, and Hellboy's The Wolves of St. August made my blood run cold. Alan Moore's SWAMP THING was gruesome in the best sense of the word. Outcast is good and creepy as well.
HCF: Where do you plan to spend Halloween ComicFest?
Trick or treating with my kids!